Disaster Management continues to be boosted through activities organised by NEMA, with the introduction of the SERT (Student Emergency Response Team) programme, according to Deputy National Disaster Coordinator, Mrs. Claricia Langley-Stevens.
The aim of the programme, is to increase response capacity and coordination, by defining and enhancing the role of young persons, during an emergency event or disaster situation.
"SERT is a training program that prepares students to help themselves, their families and schools in collaboration with First Responders and Volunteers", Mrs. Stevens said, not to be confused with the adult programme, CERTS (Community Emergency Response Teams), which positions District Management Volunteers as community emergency responders.
In operationalizing the Programme, Mrs. Stevens declared that partnership was sought with the Ministry of Education, as SERTs was recognised to be an important component of school safety and ultimately, Comprehensive Disaster Management (CDM), which is the mandate of the National Emergency Management Agency.
Training for the Student Emergency Response Team (SERT) will take place next week in St. Kitts and Nevis simultaneously, continuing into the following week following the Independence celebrations. Sessions are to culminate with a Certification Ceremony, bringing all of the trainees together in one place. Facillitators for the training were drawn from within the Disaster Management fraternity, including Fire and Rescue, the Ministry of Education, NEMA, NDMD, St. Kitts and Nevis Red Cross Society and the Police among others.
"We view this partnership as a very important contribution and investment in the development and welfare of our nation's youth", Mrs. Stevens said.
The SERT programme forms part of an over-arching Disaster Mitigation Project funded by the Caribbean Development Bank (CDB), via the local Basic Needs Trust Fund (BNTF) Office. Other components of the project include previously held workshops on Shelters and Shelter Management and Occupational Safety and Health; the development of a Hazard Survival Guide and Training in First Aid and CPR for Teachers, district volunteers and members of the disabled community.
Under the direction of school and local emergency responders, SERTs will help to provide critical support by giving immediate assistance to victims, providing damage assessment, crowd control and evacuation. Though they are not expected to take the lead in any disaster condition, SERTs will be despatched to assist others until trained emergency personnel or volunteers arrive on the scene.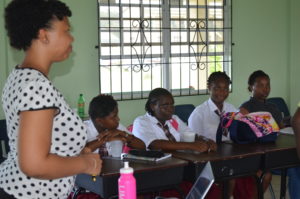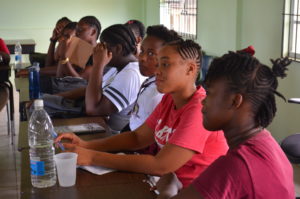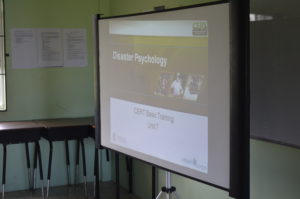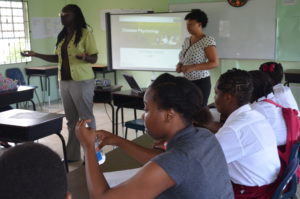 Vesta I. Southwell
Public Relations Officer