The National Emergency Management Agency
National Emergency Management Agency (NEMA) was established in 1995 in preparation to host the annual Regional Tradewinds Exercise  and is a department in the Ministry of National Security, with the Prime Minister, Dr. Honorable Timothy Harris having Ministerial responsibility for Disaster Management.  The agency is the official point of contact for disaster management on St. Kitts-Nevis and is responsible to coordinate related activities at the community and national levels.   The head of the agency reports to the Permanent Secretary, Ministry of National Security Secretariat.
Headquarters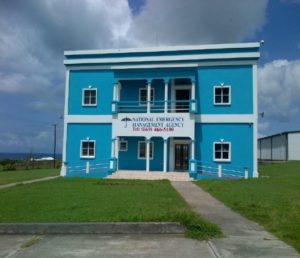 The home of the National Emergency Management Agency which houses the NEMA Office and the National Emergency Operations Centre (NEOC) as of 2005.  It also accommodates meetings, discussions, press conferences and training activities. Government and non government entities can use the conference/meeting room upstairs at a cost. The policy to use the facility can be found on this website.

Constructed in 2004 and financed under a Post Hurricane Georges World Bank, Disaster Mitigation Project.
Financing
Annually, money is provided from the approved National Budget Estimates to pay staff and meet the cost of general operations.  However, the amount is supplemented by donor agencies which sponsor projects, training and other activities.
Staff
The department is comprised of nine (9) employees namely:  National Disaster Coordinator, Deputy National Disaster Coordinator, Public Relations Officer, Districts Coordinator, Senior Clerk, Clerk, Messenger, and Cleaner. The National Disaster Coordinator is the department's head.